Tornado preparedness planning is critical and crucial to any type of business whether the business is in an urban or rural setting.
To consider tornado preparedness planning will create significant awareness and increase the chances of saving lives during tornado events that strike your business's area. Tornado preparedness planning isn't that difficult and does not cost that much, either. Tornado preparedness planning in fact would be cheaper for rural businesses than it would for businesses in larger urban and city settings. In this article, we will explore tornado preparedness planning tactics and I will conclude this article with a PDF link to an example tornado preparedness plan that you can use to help create your business tornado preparedness plan…
Does your business even need a Tornado Preparedness Planning?
You might be asking yourself whether or not your business actually needs tornado preparedness planning. You might not ever remember a tornado event happening in your area or at least they don't happen that often. But does that mean that your business doesn't need tornado preparedness planning? According to the National Weather Service (NWS), the United States of America on average gets about 1,200 tornadoes each year based on recordings that have been taking place since 1950. At least one or more tornado has effectively struck each US state in the past. Violent and deadly tornadoes have occurred each year for many years in the US. Areas like "tornado alley" and other zones are only dubbed this via the media and press – tornadoes often happen outside of these areas. So does your business really need tornado preparedness planning after all? YES! Tornadoes can happen at your location – day or night and at any time when severe weather conditions are right for them to occur.
Why is Tornado Preparedness Planning so important?
Tornado preparedness planning is important because it allows your business to be prepared for a tornadic event before the event actually occurs. A tornado is often devastating and extremely chaotic. Tornadoes happen with little or no warning and they are virtually impossible to predict in enough amount of time for everyone to get to safety. When a tornado is approaching and hitting a community, deaths and/or injuries are very likely. By conducting tornado preparedness planning for your business, you are preparing your employees and guests on what actions need to be taken during a tornado event in order to survive the event. Not having a plan will only overwhelm everyone when the storm takes place and create further dangers of death and injury. It is better to be prepared for the worse than to not be prepared at all.
Tornado Preparedness Planning: Knowledge Gathering
The first step of tornado preparedness planning is to gather knowledge on tornadoes, planning for tornadoes and general preparedness steps. In previous articles, I have mentioned the need to create an emergency team for your workplace also known as an Emergency Response Team or ERT for short. You, your ERT members and other facility staff such as maintenance, security officers and management should gather knowledge on severe weather and tornadoes so that you know what you are actually planning for in the first place. I suggest you and your selected staff team members become certified Skywarn storm spotters which can be done online and for free. Storm spotter training will teach you basic and advance knowledge on tornadoes, spotting tornadoes, tornado safety and basic severe weather meteorology skills. You should also be gathering information about previous tornadoes that have your area and tornado preparedness planning data from other businesses and communities as well. Please consider coordinating this knowledge gathering with the local community and their emergency management department to better your chances of gaining critical knowledge to aid in tornado preparedness planning for your business.
Tornado Preparedness Planning: Gathering Tools
Tool and equipment gathering will increase your business's chance of success at tornado preparedness planning. Your business will need a variety of different tools and equipment for preparing for a tornadic event. NOAA weather radios with alert mode for example are crucial tools used to alert you when your area is threatened by tornadoes, severe weather and other hazards in the community. You should have a NOAA weather radio available in all departments so that everyone at your business can be warned immediately when needed. Safety equipment such as flashlights, battery operated flares for lighting, safety vests and PPE for ERT members and basic first aid gear should also be acquired and stored in an area where it can be easily accessed during a tornado event. The biggest purchase you will make is a tornado alert system which depends on the size of your business facility. A large business may need a dedicated warning siren or voice-based alarm system. A smaller facility might make use with a simple bullhorn device. Make sure you train employees with the equipment you get otherwise buying it all will amount to nothing in the end.
Tornado Preparedness Planning: Dedicated Monitor and ERT
A dedicated monitor during severe weather potential days is a good idea for your business and for tornado preparedness planning. This dedicated monitor should monitor weather conditions rapidly by observing the skies, listening to NOAA weather radio and monitoring TV channels and websites that display weather conditions such as The Weather Channel and the National Weather Service Weather Forecast Office website for your region. Choose your dedicated monitor wisely because you don't want to decrease performance and production from your workforce but you still want to keep people safe. So choosing the facility security officer, administrative assistant or a supervisor might be the best course of action to nominate as the dedicated severe weather monitor of your facility. An ERT system is also important because it allows your employees to help with business continuity and it can decrease panic amongst other employees because they will know that there are trained people present ready to take action and protect them. If you do create an ERT system – training will be a priority, so be sure it gets done.
Tornado Preparedness Planning: Safe Areas and Drills
The next step of your business's tornado preparedness training should be establishing safe zones or sheltering areas for employees to go to after a tornado warning has been issued for your area. These areas should be on the lowest portion of your facility such as a basement or the first level of the building if there is no basement. The inner-most portion of your building is going to provide essential protection during a tornadic event at your facility. The idea is to put as many walls and sturdy structures between people and the storm as much as possible. Ideal sheltering areas include basements, storm cellars, safe rooms, rest rooms, offices and hallways. The shelter area should not have windows or objects that could fall down and harm those sheltering in place. Once you establish a sheltering areas that can fit all persons (use multiple shelters if needed), you need to conduct drills. Tornado drills should be conducting 1 to 2 times a year and all workers should participate, on all shift. When conducting drills, invite local first responders and emergency management to participate as they may be able to give you further instructions and ideas and it will help them understand what will take place during their response to your facility if it is struck by a tornado.
Tornado Preparedness Planning: The Cascading Effect
When conducting tornado preparedness planning for your business, you need to keep in mind about the Cascading Effect with tornadoes. The tornado hazard will often create additional hazards when it strikes your facility. For example, a tornado hitting your facility might start fires and break gas lines. Tornado preparedness planning should consider the cascading potential of multiple additional hazards being created after a tornado has occurred. You need to integrate these hazards into tornado preparedness training at your business. This step requires you to consider all the details because it will increase the chance of survival for you, your employees, guests and your business in general.
Tornado Preparedness Planning: Example Plan
I have created a very generic and basic tornado action plan for a fictional company called the ABC Company. The idea of creating this plan was to show you what kind of plan to establish after your tornado preparedness planning is completed. You may use this plan as your own plan if it fits your business – just make sure you edit your own company name into it. This plan is free to use for non-commercial use. What I mean by non-commercial is that I don't permit you to sell this plan as your own or edit it and then sell it as your own. The plan is copyright to me. If you do use the plan, I strongly suggest you add to it so that is can be even more adaptive to your specific business environment.
Tell me about your Tornado Preparedness Planning!
In terms of tornado preparedness planning, what have you done for your business in this area of interest? Has your business ever been threatened or impacted by a tornadic event before? Please comment on this article with your thoughts, opinions and questions about tornado preparedness planning tactics.
Thank you for reading this article. Please support the creation of this article by sharing this article with other business owners and especially on your favorite social media outlets. We are currently seeking guest authors – if you enjoy writing about rural emergency management and/or rural business continuity, please consider Contributing to this Blog, today!
About the Author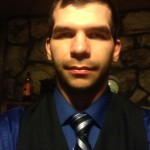 Shawn J. Gossman is an article and publication contributor of rural and remote-based emergency management, continuity and public health topics. Shawn holds a Master of Science concentrating in Emergency Management and a MBA in Hazardous Environment Logistics and Supply Chain Management. Shawn is dedicated to helping rural communities and organizations be a part of the Whole Community approach of National Preparedness.