Aside from my emergency management and homeland security interests, I have another hobby in video content creation on YouTube. While not really relevant, my videos focus on hiking, backpacking and outdoor forestry-related recreational activities around the region I reside in. But to regain the point of this article, as a YouTube creator, I pay attention to the "hot topics" of YouTube and their parent organization, Google. One article that I have read recently, coming from the experts on Google features four specific methods that the internet giant is taking to fight terrorism being conducted online.
As a YouTube creator, I've noticed many recent controversies surrounding extremism and what might be considered terrorism on the video sharing network. YouTube is a powerful tool in terms of video sharing and is used by over a billion users on a daily basis. If someone wants to promote something, video is really where it's at. Many of us would rather watch something happening rather than read what is happening. So considering that YouTube and the internet in general is host to cyber-terrorism would be an accurate thought process.
So the basic of the beginning of Google's article outlines what they define terrorism as, something that is often defined differently by different entities. They explain their commitment of combatting online terrorism and how they have been doing it all along. However, they admit that more should be done – I have to give kudos to Google from admitting this. Then they go into the four next steps they are taking to prevent online terrorism in the Google and YouTube enterprises.
The first step is to increase technological approaches to determining what content is actually extreme verses content that is about extremism in regards of media and individual commentary. So basically, using technology to determine if a video is trying to recruit terrorists or if a media outlet is reporting on terrorists using the internet to recruit participants into their organization. There is a fine line between the two types of content where one should be combatted while the other is simply free speech and also serves the purpose of informing the public and interested parties on what is currently taking place within the realm of online terrorism.
The second step reflects Google's human needs. They point out that while technology is advanced, especially that created by Google, it can still fail to see everything. We all in the emergency management field know this to be true. We'll always need the human aspect of anti-terrorism, the boots on the ground if you will. So Google is encompassing the human aspect of flagging content and videos that could be in violation of anti-terrorism policies within the enterprises they offer to the public. Humans matter! If we see something, we should always have the ability to say something, right?
The third step explains Google and YouTube's approach to taking a stance on video content that doesn't completely violate their policies. For example, a racial organization promoting hate and racism! Google will take appropriate actions as they see fit to de-monetize, restrict viewing and prevent promotion of such videos and channels. Some creators disagree with this step. This isn't due to racism; it is due to freedom of speech and expression. However, we must remember that Google and YouTube isn't a public domain. It is a private service that is authorized to create their own policies and governance. YouTube and Google have every right to restrict such content from being displayed on their services. Disabling that right would essentially tell all business owners that they cannot make their own rules.
The fourth step mentioned on Google's blog post reflects their wishes to involve creators in the anti-terrorism process. They wish to encourage creators to create change and causes that change the minds of those who are involved in radicalism, hate and extremism. This is probably one of the best steps that Google and YouTube have chosen to take. Let's face it, without creators, there would be no YouTube or the YouTube we know today would have never existed. YouTube allows people, ordinary people, to become stars and build an atmosphere of fans and lifetime friends and followers. I see these causes each and every day as a YouTube creator myself. One cause in particular is the Monster Family, a group of creators within a community that I am involved with on YouTube that has promoted the #CreateNotHate cause to help put an end on the hatefulness happening on YouTube.
Where does the community fall into place with anti-terrorism on the Internet?
My education in homeland security has been catered to the technical side of anti-terrorism. I've learned about intelligence and counterintelligence of detecting terrorist organizations and infiltrating groups, cells and teams of terrorist networks and individuals. Most of my academia evolves around planning, identifying and responding to terrorism, acts of terrorism and domestic and foreign extremism. However, I focus my subject matter expertise on local and community-based emergency management which has given me the experience of understanding the needs of a community when concentrating on the aspects of anti-terrorism.
Communities actually play a significant role in helping to combat cyber-terrorism often without truly understanding their role. Remember what it said in emergency management, an event or incident is always a local incident, first. The same knowledge can be applied to the aspects of cyber-terrorism. Imagine in your mind, a web! In the center is the terrorism and around the center is all who is involved in combatting the terrorists. Near the center is the agency side featuring members of the intelligence community, the armed forces and governmental organizations with the sole purpose of preventing terrorism. But these agencies and entities do not make up the entirety of the web. Around these agencies are the organizations, businesses, communities and individuals feeding them the intelligence and data they need in order to be able to identify the terrorist in the middle of the web.
Communities play a part in combatting cyber-terrorism by providing intelligence and data to the boots on the ground (or really, the boots on the web) who are working to mitigate and respond to such terrorist activities. Communities can achieve this by promoting tactics to identify such activities online within the business and home areas of society. Communities can educate their public and show them how to take action and say something, if they see something. Without communities and the people, businesses and organizations that make them up, there would be very little in terms of intelligence and data to be shared with agencies and governmental organizations for their efforts of combatting terrorism on the World Wide Web.
So no matter if your community is big or small, it serves a purpose in combatting cyber-terrorism. We just need to identify that purpose and promote it within our community. How are you doing this for your community? Please comment below and tell others your experience in this area of interest.
About the Author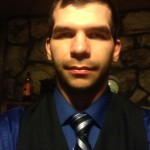 Shawn J. Gossman is an article and publication contributor of rural and remote-based emergency management, continuity and public health topics. Shawn holds a Master of Science concentrating in Emergency Management and a MBA in Hazardous Environment Logistics and Supply Chain Management. Shawn is dedicated to helping rural communities and organizations be a part of the Whole Community approach of National Preparedness.