Recently, I published an article on the importance of creating public emergency alerts. A reader posted a comment about the readability level on my article's contents and noted their general research into readability and literacy levels in emergency management. I did a little more to study the reader and his theories. His name is Dr. Thomas Phelan and he is an experienced emergency management consultant. This made me want to create an article that touches a bit on the topics that he is researching and the importance of emergency communications.

Now you all know my main niche of writing these articles – I focus on rural and remote emergency management environments as my subject matter expertise. I focus on these environments because I feel they are faced with the biggest challenges in emergency management with having a lack of resources, personnel and budgeting to meet the common goals and objectives that their urban and metro counterparts commonly complete. I feel that readability levels could also pose a significant challenge for emergency management activities in rural and remote environments and as such, this is a topic that should be discussed.
Communication is such an important component!
When it comes to practically anything involving emergency management on any level, communication might as well be the most important component of all. We, as an emergency management community, on a nation-wide spectrum, have created new policies and frameworks around improving communication to effectively improve our abilities to prepare for, mitigate, respond to and recover from disasters of all types, whether natural, man-made or technological in the nature of the incident. Look at wild-land firefighting challenges in the 1970s where multiple jurisdictions responding had many issues with coordination and working together due to a lack of proper communication skills and incident management – it effectively lead to the creation of the Incident Command System which is now a required component of all federal, state and local emergency management agencies, police, fire, EMS and even nonpublic-safety settings and businesses. Without accurate and effective communications, emergency management at all levels will likely fail.
Yes, it is important that communications becomes a skill that is mastered by all entities, agencies and personnel involved in emergency management. These people have to collaborative with one and other in a coordinated effort to ensure that success can occur. But we must look at other areas where communication is also very important – like how we communicate with the public during emergency and non-emergency events. For example, we might post news articles and infographics on social media pages to promote residential preparedness during a specific preparedness week campaign. That would be a good example of communications during a non-emergency event. During an emergency, we might need to send a mass notification through texting explaining about sheltering options or areas to avoid. It is critical that our communication can be read by all parties, no matter if it is within the realm of an emergency or non-emergency event.
How do you read things?
I write more so than I read. I love writing. However, I do try to read part of a book at least 5-7 days a week. I do this to keep my mind active and continue to learn more about how to properly write, myself. But I have to admit, I don't always read text in full. I mainly 'skim' through the content that I am reading and really prefer an audio version instead so that I can listen to something in the background as I am performing various other tasks. I am a multi-tasker. So this really is a good question to be asking yourself – how do you read things? What readability level works best for you?
When I write blogs and articles for other subjects that I have experience in, whether related to emergency management or not, I often try to write them in a structure as if I am writing the articles for middle school and/or high school students. Why? This isn't to say that I am aiming for this age group as my audience. I do this because such wording and sentence structure is a lot easier to read and interpret by most people. This isn't to say that most people are illiterate because that isn't the point here. The point here is that not everyone wants to sit down and try to interpret information written at a graduate level. People want to read information that relates to their everyday lives, something that looks real, something that they can EASILY understand which is why we should be writing for such age groups in general.
How this relates to emergency management…
This directly relates to emergency management because communication is such an important component to master with perfection. Listen, if we relay a message before, during or after a major incident and it is received wrong – the next action could be devastating. It could result in further disaster and maybe even further injury or God forbid, further deaths. Knowing what information is being said is critical to the successful result and completion of an emergency management operation. Whether we are relaying information to those involved in the operation, policymakers or the people we have sworn to keep safe, such information needs to be easily read right off the bat without people having to give up precious time to effectively try to interpret what the information means.
And there is still a lot of work to be done on this issue, too. Take alerts from the National Weather Service for example. Look at this NWS tornado warning alert:
486

WWUS54 KBMX 230825

SVSBMX

SEVERE WEATHER STATEMENT

NATIONAL WEATHER SERVICE BIRMINGHAM AL

225 AM CST MON JAN 23 2012

ALC107-230845-

/O.CON.KBMX.TO.W.0001.000000T0000Z-120123T0845Z/

PICKENS AL-

225 AM CST MON JAN 23 2012

…A TORNADO WARNING REMAINS IN EFFECT FOR CENTRAL PICKENS COUNTY

UNTIL 245 AM CST…

AT 220 AM CST…NATIONAL WEATHER SERVICE DOPPLER RADAR INDICATED A

SEVERE THUNDERSTORM CAPABLE OF PRODUCING A TORNADO.  THIS DANGEROUS

STORM WAS LOCATED NEAR GARDEN…OR NEAR CARROLLTON…MOVING NORTHEAST

AT 55 MPH.

LOCATIONS IMPACTED INCLUDE…

GORDO…OWENS AND LUBBUB.

PRECAUTIONARY/PREPAREDNESS ACTIONS…

TORNADOES ARE DIFFICULT TO SEE AND CONFIRM AT NIGHT. TAKE COVER NOW.

&&

TO REPORT SEVERE WEATHER…CALL 1-800-856-0758.

LAT…LON 3346 8784 3333 8783 3325 8784 3325 8783

3319 8783 3317 8818 3325 8822

TIME…MOT…LOC 0825Z 245DEG 47KT 3324 8808

$$

17
There is a lot of information on the alert above that we can easily consider as technical information with all the numeric signature data, latitude and longitude information and time contents. Everything is in all capital letters and it includes several locations. This isn't to say that the National Weather Service is doing this wrong, but local emergency management officials in the areas listed above should be the ones to disseminate the above information to their stakeholders in a manner of which they could easily understand what is going on:
A TORNADO WARNING has been issues by the National Weather Service office in Birmingham, Alabama on Monday January 23, 2012 at 2:25 AM CST.

At 2:20 AM CST, National Weather Service radar equipment indicated a severe thunderstorm capable of producing a tornado moving northeast at 55 miles per hour near the communities of Garden and Carrollton. This is a very dangerous storm.

If you are in the path of this storm, you should take cover now. Seeing this tornado may be impossible as it is currently night time.

Other locations impacted are Gordo, Owens and Lubbub.

This TORNADO WARNING is in effect until 2:45 AM CST.
The alert above would be something that would likely be relayed through some types of mass notification system via local emergency management. The above modified alert is easier to read and quicker to skim. The original alert includes so much technical information that people may have to sacrifice a little extra time in order to interpret what the message is telling them to do. During a tornado warning, where life threatening situations are present, people don't have the time to sacrifice precious time. This is where readability levels comes into play involving emergency management and keeping our communities safe. We must identify this challenge and counter it to the best of our abilities.
Thank you for taking the time to read this article. I hope you enjoyed it and I also want to give an extended thanks to Dr. Tom for giving me the idea to write this article. I look forward to continuing to follow your research on this very important issue. Please share this article with others and especially on social media if you have enjoyed reading it. Please feel free to comment on this article with more constructive information to go with this topic.
About the Author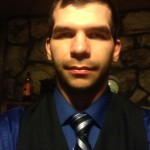 Shawn J. Gossman is an article and publication contributor of rural and remote-based emergency management, continuity and public health topics. Shawn holds a Master of Science concentrating in Emergency Management and a MBA in Hazardous Environment Logistics and Supply Chain Management. Shawn is dedicated to helping rural communities and organizations be a part of the Whole Community approach of National Preparedness.