Critical Incident Stress Management is an extremely important topic to consider exploring, especially in small and rural communities where everyone tends to know one and other and probably consider most of each other as members of one big family. Incident, especially those of a disastrous nature, often caused a mixture of extreme emotions for the victims and even the responders of the incident. Stress, depression and even suicidal tendencies can occur within a first responder's mind shortly after a major incident has occurred. Critical Incident Stress Management should be required among every community across the nation and one day it just might very well be.
The Most Important Asset of an Emergency Department
What is the most important asset of your emergency department? A police cruiser? A fire engine? An AED for life support? Communications equipment? Give up? The most important asset of a police department, fire department or other emergency-related department is YOU, the first responder is the most important asset because without you, the department cannot function. Managing your stress and depression after a major incident is important because you are the most important asset of the department after all. Critical Incident Stress Management can enhance our abilities to perform lifesaving efforts. Critical Incident Stress Management can even save our own lives when we cannot simply handle the trauma that we have just witnessed during a major incident.
Critical Incident Stress Management Scenario: Fire Department

One evening in a quite rural town of 250 residents, county dispatch tones out the local volunteer fire department to respond to a structure fire whereas a house is fully involved. A few minutes later, firefighters arrive at the home to find an adult woman in complete panic. She is screaming that her 4 year old daughter is still inside the house. Heavy black smoke is occurring through every opening and consuming the entire home which is an obvious sign that there is likely no life inside the home at this time. After the fire is contained, emergency responders remove the deceased child from the home. Most of the responders knew the little girl and her parents from being around town. Everyone at this scene is completely devastated and the mother was so in shock that she had to be rushed to the hospital for emergency critical care.
Critical Incident Stress Management Scenario: EMS Department

County emergency medical services for a large farming county get a call one day that a vehicle lost control on wet pavement and rolled. Upon arrival to the scene of the incident, paramedics and EMS personnel find a pregnant woman pinned under the car halfway out of the window. The car is pressuring down on her stomach. Upon further communication with the victim, it is soon identified that the victim teaches first grade and many of the EMS personnel on site know her because of their children attending her class. Several minutes in the incident, the woman loses too much blood and passes away. The fetus died shortly after the wreck due to the way the car landed on her stomach. The woman was only 26 years old and was excited to start her family.
Critical Incident Stress Management Scenario: Emergency Management

One summer evening, the Storm Prediction Center issues numerous alerts that severe weather will likely effect the Midwestern portions of the United States. In a small town in southern Missouri, a tornado touches down and is about a mile in diameter. The tornado destroy half the town. On one side of town, where tornado sirens are not present, retain the most fatalities. The emergency management department recently had a meeting where concerned homeowners on that side of town addressed worries about not having adequate tornado sirens installed. Many of those who addressed these concerns were among the dead after the tornado had occurred. Many of the dead were well-known people in the community who were very active in the community.
Critical Incident Stress Management Scenario: Law Enforcement

Local police officers are called one Saturday evening to the local tavern over a fight. Upon arriving, an officer is forced to get in between the fight to break it up. The patron who started the fight is told he will be arrested because there are many witnesses claiming that he initiated the conflict. The patron quickly pulls a firearm from his coat pocket and fires on an officer. The single gunshot wound to the head kills the officer in a matter of seconds. The officer has been on the force for 15 years and is a third generation police officer for that town. He left behind a wife and three teenage children. Everyone in the community knew the officer well.
The Critical Incident Stress Management Scenarios
The 4 critical incident stress management scenarios above are fictional but based on actual events that have happened. They are devastating to say the least. If you are a member of a rural emergency response department like those departments listed above, the scenarios probably have made you think about them. Imagine if one of those scenarios have happened in your department. It would be a terrible experience to be involved in and you would probably be in a lot of emotional distress. In a small and rural community, where everyone knows one and other, a death is big news and often follows with big sadness. Emergency responders, who face challenges in limited training, resources and personnel often wonder that they could have done differently to prevent such tragedies but in reality, for what little they had, they had likely done their best. But it will never feel that way unless departments take action to create a critical incident stress management program.
Does your department have a Critical Incident Stress Management Program in place?
Does your department practice critical incident stress management at all? What sort of components has your community added to their critical incident stress management or related program? Please comment below with your thoughts, ideas, opinions and questions about critical incident stress management programs being developed in rural communities and emergency response departments.
Thank you for the taking the time to read this article. Please share this article with others and on social media to help support this blog. If you have ideas for us to write about or you would like to write a guest article on this blog, please see our Contributor Page for more information.
About the Author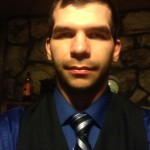 Shawn J. Gossman is an article and publication contributor of rural and remote-based emergency management, continuity and public health topics. Shawn holds a Master of Science concentrating in Emergency Management and a MBA in Hazardous Environment Logistics and Supply Chain Management. Shawn is dedicated to helping rural communities and organizations be a part of the Whole Community approach of National Preparedness.