Agroterrorism can be defined as terrorist activities, threats and actions against the agricultural sector. Agroterrorism sounds like some sort of modernized term but the truth is, agroterrorism has existed for many years. According to Dean Olson, MA in a report made through the Federal Bureau of Investigation, "The Assyrians poisoned enemy wells with rye ergot during the 6th century B.C. During World War I, German agents in the United States infected horses and cattle in transit across the Atlantic to France. In 1994, in The Dalles, Oregon, a religious cult intentionally contaminated 10 restaurant salad bars with salmonella, sickening more than 750 people in an attempt to influence the outcome of a local election." This goes to show that agroterrorism is not exactly a new threat that we are being faced with. And while we might think that agroterrorism is a rural concern, it really isn't just a concern of rural communities, instead, it is a concern for us all – on an international level at that.
Agroterrorism is an International Threat
Sure, most agricultural and farming operations are located in rural and remote areas within the United States agriculture sector. However, it isn't logical to say that all livestock and farming being done in rural areas is meant to just feed rural residents, right? The rural community who is often the cornerstone of agriculture and farming is feeding not only the rural population but urban and metropolitan areas as well and even the international community since we sell and trade goods to other countries. Imagine if terrorist agents were to infect something as simple as milk within a rural farming operation that supplies its milk to the United States for schooling functions. Imagine contaminated milk reaching our schools and infecting our children – nationwide. That would be scary thought especially to someone who is a parent of a child in the public school system. Agroterrorism isn't just a rural concern, it is a world-wide concern and we all need to be on board with preventing, mitigating and combating it.
Preventing Agroterrorism on a National Scale
There are many programs in place to prevent and mitigate potential agroterrorism activities. For example, the Intelligence Community (IC) works to create an intelligence work-group that is aimed at protecting the nation's farms and agricultural operations from agroterrorism which includes agencies such as the Department of Homeland Security, NSA, CIA and the FBI. The FBI also has partnered with the private sector to form InfraGard, a program designed to help protect the food and agriculture and other critical infrastructure sectors with the help of regular citizens and private sector organizations. Preventing agroterrorism on a National Scale is being performed but we all understand how emergency management works, it will always start out as a local incident before it turns into a national incident. Hurricane Katrina was local before it became a federal matter. 9/11 was local to New York City before it became a federal matter. Local disaster management will always take the lead until their abilities to respond has been exhausted.
Preventing Agroterrorism on a Local Level
This is where the real challenges of resiliency and emergency management make their appearance. Preventing agroterrorism on a local level is the challenge, seeing as most agricultural and farming operations are conducted within rural and remote regions. The challenges facing rural communities in terms of homeland security, emergency management public health are overwhelming and thus create physical proof on why more attention needs to be drawn to these specific areas. Let's face it – terrorists want to be able to hit us where it counts and to hit us hard and agriculture and food would be one significant way to really make us go to our knees in terms of combating terrorism against United States interests. Now is the time for the local sectors to utilize the resources, tools and capabilities before them to concur the threats of agroterrorism and prevent an absolutely horrific disaster from ever being able to take place in the future.
The Rural Community can Prevent Agroterrorism
Many emergency management organizations and departments located in rural communities tend to focus their efforts on natural hazards more so than technological hazards such as agroterrorism. Rural communities are not often subject of terrorist attacks – the media shows these attacks happening at places like New York City and Boston, significantly large cities with a lot of people and a lot of critical infrastructure within them. Rural communities suffer most from natural hazards such as wildfires, tornadoes and flooding events – rarely is terrorism a concern. This is not the type of mindset that should be occurring though especially since rural communities are often the majority host of our nation's farming and agricultural sectors. It is time to think realistically and focus some attention on potential terrorist attacks that are quite possible for rural communities.
People are the biggest assets and resources in emergency management. All the funding in the world is useless without people managing such funds and ensuring budgets are being spent on the right type of emergency management need and resource. People will always be the largest capital in terms of emergency management, especially within rural and remote areas where people are scarce for these sorts of tasks. When attempting to gain resiliency of agroterrorism related activities, communities should be focusing on people to assist them in this endeavor. A joint task-force can be made with local residents around farming operations, community and department leaders and farmers on discussing protective measures and procedures for investigating potential threats of agroterrorism. Fusion centers can be formed specifically to share intelligence and information concerning the threat to agricultural communities and entities whereas people will be the data providers. Awareness and promotional education can be made to the public, residents/businesses/farmers on the threats of agroterrorism, what to look for and how to report it. Further planning between public safety and agricultural entities should also be made and such plans should be routinely updated as required, especially when change management occurs.
Agroterrorism is one of the many challenges that the rural emergency management community is faced with. Rural areas are not always just a rural concern, many particular functions of a rural region can hinder aspects of normal life for the nation as a whole and that is why it is important to fully understand the issues revolving around emergency management for rural entities throughout the country. Rural disasters and hazards will always start locally and can always be prevented and mitigated locally. Agroterrorism and other similar topics are the type of topics worth discussing especially in this day and age where the United States is hated by so many organizations created to cause complete terror and chaos.
Thank you for reading my article concerning the threats of agroterrorism. I encourage you to reply to this article with your own thoughts, ideas and research concerning the challenges and solutions of developing a better and resilient agricultural sector across the nation. Please share this article with others and especially on social media to help show support for its creation. This article was written by Shawn J. Gossman, MS, SEM, PDS – a professional and academic concentrating in rural emergency management and organizational continuity practices. If you are interested in furthering the rural emergency management cause, please visit and join Rural Responder, an online community focusing on collaborative efforts of helping to solve the challenges of rural emergency management.
About the Author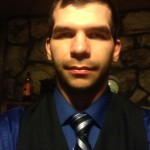 Shawn J. Gossman is an article and publication contributor of rural and remote-based emergency management, continuity and public health topics. Shawn holds a Master of Science concentrating in Emergency Management and a MBA in Hazardous Environment Logistics and Supply Chain Management. Shawn is dedicated to helping rural communities and organizations be a part of the Whole Community approach of National Preparedness.